Eoghan McKenna takes over as Belfast Solicitors' Association chair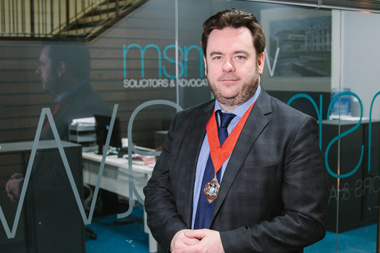 Eoghan McKenna has taken over as chairperson of the Belfast Solicitors' Association (BSA) at its annual general meeting today.
Mr McKenna is a solicitor with Belfast-based firm MSM Law Solicitors and Advocates and takes over the role from Olivia O'Kane, associate at Carson McDowell.
Mr McKenna told Irish Legal News: "I am honoured and humbled to be afforded this opportunity to represent the solicitor profession in Belfast.
"The Belfast Solicitors' Association has an impressive and proud history. The new committee will now build on this with fresh efforts to assist our members and to benefit wider Belfast society."
In her speech to the AGM, Ms O'Kane praised "the hard work and dedication of each of the BSA committee members" and gave special thanks to BSA administrator Briege Williams.
She concluded: "Finally, to serve as Chairman of the Belfast Solicitors' Association is a privilege and honour, not least because of the successful attributes of the committee but also the opportunity to represent our local members. Furthermore, it has been an honour to continue the BSA tradition of forging relationships with other associations, law societies and with our colleagues at the Bar.
"It remains for me now, to wish my successor Eoghan McKenna the best of luck for his year as Chairman."
Back to news