Belfast solicitor's commitment to mental health recognised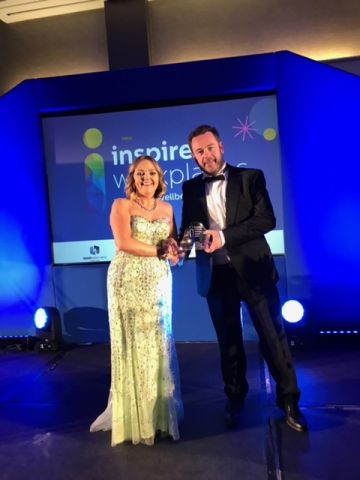 Belfast solicitor Eoghan McKenna, managing director of MSM Law, has been recognised with multiple awards from wellbeing charity Inspire.
Mr McKenna's firm resisted stiff competition from other nominees in the business and professional community to receive the Excellence in Small Private Sector Workplace Wellbeing Award at a glittering awards ceremony hosted by the BBC's sports commentator Stephen Watson in Belfast's Crowne Plaza Hotel.
A well-known supporter of various charity causes, Mr McKenna's firm was the first Northern Ireland practice to become an "Inspiration Point" for mental health and wellbeing for the benefit of both clients and staff.
He said: "I am delighted to receive this award on behalf of MSM Law, and have been greatly interested and motivated by the work of Inspire.
"Our partnership with Inspire is not just about raising money but also, crucially, about raising awareness. I look forward to continuing this important partnership with the charity."
The Belfast Solicitors' Association (BSA) was also commended as a nominee in the Workplace Wellbeing Innovation category for the work it carried out for Inspire under McKenna's leadership during 2017.
As chair of the BSA last year, McKenna initiated the partnership with Inspire and, following a record-breaking year, handed over a cheque for £15,000 to the charity at the end of his term in office.
Back to news